Home
About our School
Specials
Save a Life
Photo Gallery
Clowns for Hire
FAQ for Clowns
FAQ for Clients
Clowning Books
Carnival Games
Christian Clowning
Birthday Parties
Christmas Parties
Deliveries
Autographs
Links
Barter and Trade
Enviro-Max Plus
Kibbey Clowns for your Birthday Party - Houston Clown School - Kibbey Clowns





Birthday Parties

The Kibbey Clowns offer: One hour birthday parties. Our most requested show is one hour long. The clown arrives 30 minutes after the children are assembled. He makes a grand entrance and goes right to work entertaining the little ones.
There is 30 minutes of magic tailored to the age of the children attending.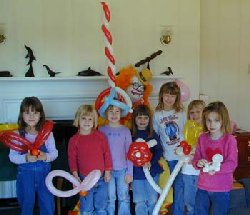 The second half of the show is our balloon sculpturing. It is a 30 minute show. Each child will receive a special balloon gift made to his or her request. At the end a really special balloon arrangement is made for the birthday child.
For more information please call (281) 495-7523 or (281) 235-3901
---

Pay me securely with any major credit card through PayPal!
---
Site created & maintained by
TuxStudios.Com

© Kibbey Clowns - Houston Clown School - 2005 - 2023