Home
About our School
Specials
Save a Life
Photo Gallery
Clowns for Hire
FAQ for Clowns
FAQ for Clients
Clowning Books
Carnival Games
Christian Clowning
Birthday Parties
Christmas Parties
Deliveries
Autographs
Links
Barter and Trade
Enviro-Max Plus
Clown Delivery services - Houston Clown School - Kibbey Clowns
Clown Delivery Service
One of our very own Kibbey Clowns will deliver that special gift for you to your loved one. We have delivered just about everything over the past 20 plus years.

We can also deliver:

Engagement rings
Valentines
Balloons
Candy
Get Well Wishes
Even a new puppy!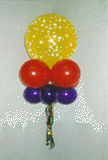 One of the favorites is a large bouquet of helium balloons weighted down with a full half pound of Tootsie Rolls or your favorite candy.

We are only limited by your imagination. We can also customize whatever you would like.

For more information please call (281) 495-7523 or (281) 235-3901
---

Pay me securely with any major credit card through PayPal!
---
Site created & maintained by
TuxStudios.Com

© Kibbey Clowns - Houston Clown School - 2005 - 2023