Welcome to Houston Clown School - Houston Clown School - Kibbey Clowns
Houston Clown School
---
Come Fulfill Your Fantasy
become a Professional Clown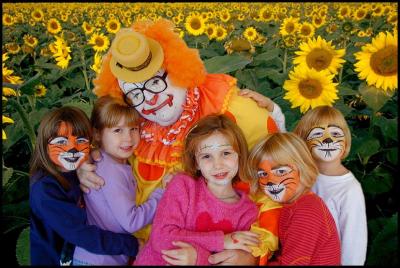 We offer 6 classes in the classroom and 2 class trips with our clowns to supply houses in Houston and to see our Clowns at work.
Learn the following:
History and Tradition of Clowning
Costuming,
Make Up,
Party Magic,
Balloon Sculpture,
135 Ways to Make $$$ Clowning,
Hospital Clowning,
and Fund Raising as a Clown.
We have just added a special course in Face Painting by our, INSTRUCTOR AT LARGE "MARION" ONE OF THE MOST FANTASTIC FACE PAINTERS IN THE WORLD. COST OF THAT CLASS WILL BE $150. FOR 2 HOURS OF SPECIAL INSTRUCTION. WE ARE THRILLED TO HAVE MARION JOIN THE STAFF AT THE HOUSTON CLOWN SCHOOL
---
We will train Clowns from any country in the world at the Houston Clown School. Do you know someone in another country that can use a great source of income and want to help them?

Have them contact us at the Houston Clown School. We will write to the US Embassy in their country and help speed up their trip to the USA, We now have a proven track record.
Contact:
Larry Kibbey
Kibbey The Clown
(281) 495-7523

Learn To Clown For The Lord
Be sure and click on the above link to see what we have to offer in Christian Clown Classes We are now the longest continual running Professional Clown School in the World!